Memories of the Hotel Paris from the days before it was converted into luxury apartments.
Rumor had it that the Hotel Paris was built as some sort of club in which businessmen such as traveling salesmen could stay inexpensively while in the city (much like staying at the YMCA). It had a rooftop solarium and pool, and amazingly small rooms, each with private bath. In the 60s and 70s, the glory days were long past but the pool, solarium and spacious lobby (with mezzanine) remained. A gentle seediness hung over the place, much like the many other residential hotels typical of the neighborhood. In its last years, the Paris started attracting busloads of tourists on cheap package tours, like a hostel. The prostitutes came next, along with the smell of urine in the elevators. The Paris had become little better than an SRO ("single room occupancy" dwelling) or welfare hotel. By the 80s, it had been closed, renovated and turned into luxury rentals.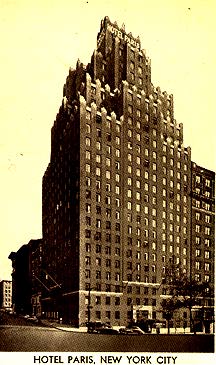 Hotel Paris
97th STREET AND WEST END AVENUE
Text: A few steps from Riverside Drive, conveniently situated, with express subway station and Fifth Avenue buses practically at the door. Surrounded by facilities for outside sports and with a 50 foot swimming pool for indoor enjoyment. Every room has private bath and radio. T.V. and air conditioning available. There are beautiful lounges and a spacious solarium. One block from 95-96th Street exit of West Side Highway. [Postcard picture and text from http://pages.map.com/rclark/tabloid_trash/paris.htm 1-3-06 link broken] [Link to another postcard.]
From the Web
My Great Grandfather, Samuel Gross was the architect of this garnet colored edifice erected around the late 1920's,early thirties. It's visible from the West Side High Way and is easy to recognize because of the its turrets and oversized flag pole centered on the roof. It is no longer a hotel, it is an apartment building. I had the pleasure of first visiting it last year with my daughters and grandaughter (Sam's Great, Great, Great Granddaughter!)And it was her first time in a NYC building.
Anyway, when we first entered the lobby, there were the pink marble walls my mother had told me about. we spoke to the concierge and he gave us permission to take the elevator to the top floor. The corridor was narrow by today's standards but the view was magnificent. When we returned to the lobby, we toured the Health Club that now occupies the former banquet hall. Finally we were escorted downstairs to see the original indoor swimming pool still in operation!
Wondering where to find some original interior photos?
[from http://www.gothamcenter.org/discussions/viewthread.cfm?ID=824&ForumID=30]
Via email
From an email dated 6/18/2005. Used by permission:
Hello..

I was just surfing the net and found your site. I lived in the Hotel Paris from 1960-1963. Although I was born in NYC, we moved to Florida when I was a baby and somehow we became destitute. The extended family sent us money to come back up to NYC and we all lived in one room at the Hotel Paris. I was only three, but I remember it. After a few months, we had enough money to move into a two room apartment. It was a corner room on the fifth floor. It had a front room that faced West End Avenue and 97th St. My parents slept in there. My brother and I slept in the other room. My mother cooked over a hot plate. I went to P.S. 75 for kindergarten. In the summer of '63 we moved to a regular apartment on 90th and Broadway where I lived for 17 years.

As fate would have it, my father managed to pull himself together financially and eventually owned the little store on the corner of 96th St. and West End Avenue. When I was 10 (1967), my parents decided that I needed to learn how to swim, so they paid $60 for ten swimming lessons at the Hotel Paris. I remember the pool very well. It had an observation deck which I thought was kind of cool! There was a lot of chlorine in that pool. After each lesson, I would then go to my dad's store for a snack. Two or three years later, I got an annual membership to the pool for about $20.

Another memory I had was of the lobby. You went up some stairs and there was an area to read or do work and they had this old typewriter. I was fascinated by it and enjoyed playing on it. I recently read Stephen King's "On Writing" and there was a section about him going to a hotel lobby to type and I had visions of the Hotel Paris.

Well, there are my early memories.

Roberta Strenka
From emails 8/2006. Used by permission:
I have been searching for a hotel that was in the vicinity of 96th and West End Avenue. After reading your website, I think the Hotel Paris fits the location. My great-grandmother, whom I never met, was the head housekeeper at a luxury hotel in this location. Her name was Margaret Norris. I noticed the email from Roberta Strenka which was particularly interesting since she lived in that neighborhood. Can you tell me of any hotels in that area that might fit the description? I am from Texas and am researching my father's side of the family.

My great-grandmother immigrated to New York prior to 1902, when my grandmother was born. My Aunt told me that they would go visit her when she was a girl, and she is now 84. She said they thought she was very wealthy, because she lived in this high-rise hotel and had servants, but she was really the head housekeeper. I figure it was around 1930, or thereabouts.

Lisa Mayfield
My answer:
I'm no historian but I think the Paris is your hotel.

1. The building boom on WEA was in the 20s and 30s, by my observation of cornerstones and confirmed by this site: http://www.bloomingdale.org/history.htm
2. Virtually all the buildings of that era along WEA in that neighborhood are still standing.

3. I've neither seen evidence nor heard of any hotels or other large buildings there that predate the boom.

4. I think that leaves the Paris as great-grandma's hotel.

While I would not call the Paris "luxurious," it did attract a nice clientele, had an impressive lobby, and had full hotel services.

You can view a pretty complete list of Manhattan hotels 1919-1940 here:
https://www.nyhistory.org/templates/library/hotelguide.html
From an email sent by Richard Young 10/25/06:
I was in New York this past weekend and was reminded of my visit to the Paris Hotel back in 1967. A few of my UW college friends, including a girlfriend, stayed at the Paris at Easter time. I recall taking my girlfriend to the Persian room in the Plaza Hotel, running out of cab money and walking her in the rain from Central Park South to 96th and West End. The Paris was at that time on the "edge of respectability," as one New Yorker characterized it. The lobby was large and tired. The rules were strict. I was not allowed, under any circumstances, to accompany my girlfriend to her room. They clearly were trying to keep it reputable. Tired as the lobby was, it nonetheless had character, and I thought that it must have been beautiful thirty years earlier. I'm delighted to hear it is still standing. This past weekend we stayed next door to the Plaza, which is undergoing a condo conversion. Another sad passing of a truly grand hotel.
From an email received 8/16/2007 (used by permission):
My name is Janet Kestenberg and my father was the manager of the Paris, not the owner. My fondest memory was in the 1950's when my father decided to elaborate the dining room with a mirrored internal garden. The mirrors reflected back on each other so that it looked as though the little garden had 100 fountains.
An email received January 20, 2007, from Peter Selgin:
I was delighted to find your website on the Hotel Paris. I stayed there with my father in the sixties, when he would go to the city on business trips. I loved that hotel. I have a distinct memory of the lobby, and of the small attached restaurant, the small rooms and florid hallway carpeting. Iím a fiction writer, and a description of the hotel has wormed its way into a recent story:
ďAt the hotel where my papa and I slept, a black woman with fire engine red hair let me man the elevator controls. At each floor the elevatorís caged doors opened to different hallway carpeting, with each pattern a teeming city unto itself, arabesques of bright color that seemed to mirror the thrilling chaos outdoors.Ē
An email from "Tink," dated 12/3/2007:
Goddesses know how or why I found your website today . . . guess I'm getting sentimental upon moving from my 2nd house since leaving the City, but anyway, here goes . . .

I moved into 752 WEA in 1980. It was still a bit of a "sketchy" area at that time, but hey, I was in my early 30's and working at Atlantic Records, so all was "cool." I can remember a bodega on the corner of WEA and 96th (roaches all over the place, no one spoke English, but late at night when you needed cigs, who cared), there was an original GAP on the corner of 96th and Broadway, with a Latin club, upstairs where Tito Puente would often play, and a restaurant named The Library on Broadway (95-94th). It had tons of old books on the walls and was a great place to brunch by oneself. A deli on 95-94 B'way that was always good for Nova and cream cheese on a bagel with tomato and red onion even at 2:00 AM, and the newstand on 96 and B'way for 1:00am pick up of the NY Times on Sundays. Ashford and Simpson lived on 96th and CPW and I would often see them on the bus.

OK, to the building itself. I remember it as being a beautiful piece of Art Deco architecture, a VERY deep red brick, and very tall -- 23 floors I think, then the penthouse. When you came in the front doors, there were the buzzers, then after getting into the HUGE lobby the mailboxes were to the left. There were 2 elevators in the lobby facing you as you came in and a balcony above that (where you could get the stairs on either side, and I often did as the elevators were always breaking down and living on the 19th floor, I can REMEMBER that very well). To the left of the elevators was a door that led to the basement. The lobby was a pinkish color (oh geez, this is really taking me back) and again, HUGE! As I said I lived on the 19th floor, 19G to be exact. I had a 1 bedroom apt. and was paying $850.00 in 1980. My bedroom had a window that overlooked the Hudson and you could see the GW bridge to the right. The other 2 windows looked onto 97th St. (mostly water towers as I was higher up than them. From the den/living/dining room, the same (97th) and also a window facing the park where you could actually almost see to the East side. The kitchen was yellow and small with an occasional roach or 20 or 30 . . . I would just name them, say goodnight and they'd be gone in the morning.

On the few times I would take a cab home and I would say "West End between 96th and 97th," the older cabbies would refer to it as the "old Paris Hotel." And then give me the shpiel about it having had a rep in the old days as a "house of ill repute" and asked if it were still the same. Very funny. I would tell them no, it's quite lovely right now.
David Campbell wrote on 3/23/2008:
I have had for many years a wooden coat hanger in my closet that I probably received through my family. It has printed on it "Hotel Paris----97th St. & West End Avenue---A Knott Hotel."
Curious, I was surfing the internet and was pleased to have come upon your website. I know that when my father was about 14 years old he drove chickens from Kentucky to New York City to sell them. That would have been ca. 1930. I wonder if he might have stayed at the Hotel Paris while he was there? He passed away in 2003 and I never heard him remark as to
where he stayed on those trips, but he DID tell me stories about going to the Yankees games and seeing some of the old Yankee legends play ball.

Are these hangers numerous? Also, are there registers still existent whereby I might determine whether my father stayed in the Paris while in New York City? Just wondering whether he might have picked up the hanger on one of his trips?
[If you know anything about old Hotel Paris registers, drop me a note and I'll pass it on to David. Also, he was kind enough to photograph the hanger for us. At one time, Knott was a pretty big hotel chain; it later was acquired by Trusthouse Forte, Inc.]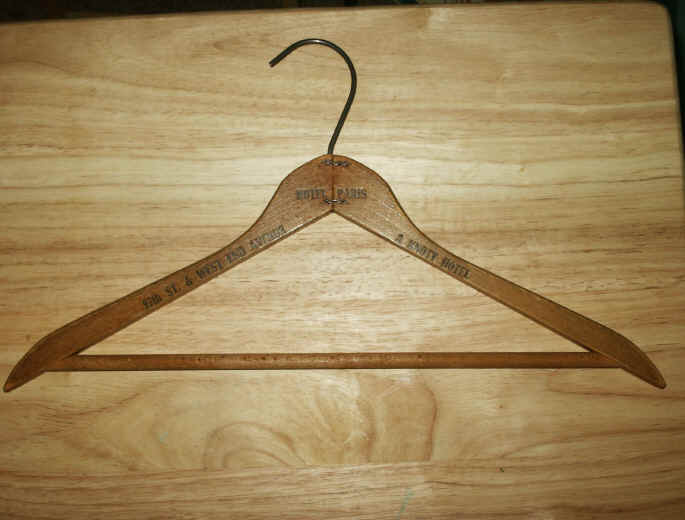 Jean wrote May 3, 2008:
I had part of my Peace Corps training in NYC in November and December of 1969. We were lodged in the Paris Hotel; I had to share a room with the only other single woman in our group which was destined to go to Lesotho as secondary school teachers. It was very cold that winter, and I remember dodging frozen dog poops on the sidewalks. There was a bag lady around the corner from the hotel who had set up a kind of shelter; her name was Beatrice, and she said she used to be a ballerina, but had recently been in a hospital due to mental problems. I told her where I was staying and said if she ever needed anything, to drop by. Surprisingly, she did, just once, and she chatted with me and my roommate. I believe the high school where I did my teacher training was named something like Bishop Dubois [perhaps this one]; it was an all-boy high school, and I have no idea where it was, but managed to get there somehow.
Back to the Hotel Paris, it was where I had my first encounter with cockroaches; they would scurry away whenever the lights were turned on at night. One day the elevator operators [ed: I don't think there were elevator operators] were on strike, and one elevator did not work, so everyone crushed into one, and it couldn't stop at the first floor, but sank, and opened to a brick wall. Scary. I was so delighted to find an old picture postcard of the hotel among my mother's collection of cards--I guess I'd given it to her or left it there. [Jean says the card was the same as the one pictured at the top of this page.]
Parisites
| | |
| --- | --- |
| | |
| | Joseph Tunick [link to http://tunicks.com/WC03/WC03_446.HTML is broken, 1-3-06] (could be related to photographer Spencer Tunick) |
| | 4/2002 I ran into photographer Al Gruen, former resident of the Paris. |
| | Some time in the late 60s or early 70s, songwriter/producer Lincoln Chase lived in the Paris. |
The building
Emporis Building Number 114736
According to Emporis, the architect was Sugarman & Berger and construction was completed in 1931.
SUGARMAN, M. HENRY: An architect, died in New York City, October 12, 1946, aged fifty-eight. He studied at the National Academy of Design, the Columbia University School of Architecture, and in England and France. He organized the firm of Sugarman & Berger in 1926, which designed the New Yorker Hotel, the Mayfair Hotel in Philadelphia, and the Long Beach Hospital on Long Island as well as buildings in Europe and Central America. WWAA IV - 1947. [From http://www.sah.org/oldsite06012004/aame/bios.html]
The New York Historical Society's George B. Corsa Collection has information about the Hotel Paris. See https://www.nyhistory.org/templates/library/hotelguide.html
The Hotel Paris flagpole is a "benchmark": http://www.geocaching.com/mark/details.aspx?PID=KU4003
According to the book Manhattan Hotels, 1880-1920, by Jeff Hirsch, the Paris had 1000 rooms and was designed by architect H. Hurwitt.
According to the New York Times, the Paris opened in December 1931 with 900 rooms. I think it was built by the Silverman Freda Construction Corporation. You can view the original Certificate of Occupancy here.
The Guardian Life Insurance Company bought it at a foreclosure auction in 1933. In 1934, the Paris was sold by Guardian Life to the Risap Corporation (James E. Knott, president).
David Campbell (see above) has a Hotel Paris hanger that says "A Knott Hotel." He thinks it's from the 1930's.
I believe Milton Kestenberg bought the Paris in 1955. A 1966 court case lists "Milton KESTENBERG, d/b/a Hotel Paris and Olympic Swim School and Health Club, Inc." as the Defendants-Respondents. Kestenberg was also involved with many similar hotels, particularly on the West Side. It seems likely that this is the same Milton Kestenberg (d. Nov 19, 1991) who was an attorney, real estate manager, litigator on behalf of Holocaust survivors, and was married to psychiatrist and author Judith S. Kestenberg, M.D. (d. Jan 16, 1999). Perhaps it's the same Milton Kestenberg who was involved with the Elva McZeal Apartments in East New York.
Henry Mandel, writing about the Paris Apartments, says that he converted a ". . . deserted hotel building into middle class housing, specifically apartments, as part owner. I created a health center in the building which is still named the Paris Health Club. The Paris Health Club was a first of its kind in that it offered middle class citizens affordable access to previously upper class luxuries." In July of 1978, a new Certificate of Occupancy was issued, showing that the Paris was now a "Class A Multiple Dwelling."
The New York Times reported that Herbert Mandel sold the Paris in March of 1981 to Amos Kaminski's AFA Asset Services, Inc. (Mandel was arrested in December of 1982.)
The New York Post reported that the building was sold to Westbrook Partners on 9/28/2007 for $85,787,799. It now has 179 apartments.

The Hotel Paris
752 West End Avenue
New York NY 10025
If you have any Hotel Paris stories or memorabilia, please drop me a line at nos@nostradamus.net.
[ Up ]